Rosemount House Committee is a registered charitable limited company, which was established in 1988 for the primary purpose of providing sheltered and professionally supported accommodation for men seeking continuing recovery from alcohol addiction.
Rosemount House was originally based in a small house in Rosemount Gardens, Antrim Road, North Belfast in 1988. (It is from this location that the House got its name.) It all started in 1988 when Danny Murphy, Liam Campbell, Charlie McGarry, Sr. Gemma, Malachy Turley and Martin Salmon formed a committee to set up Rosemount House.  The idea of providing a dry facility came when Charlie asked the Morning Star for a room for someone to go off alcohol.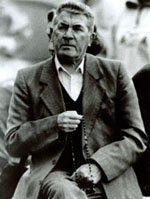 One of the founding members, Mr. Danny Murphy, R.I.P. took the opportunity offered to rent a house at number 5 Rosemount Gardens. With the help of St. Vincent de Paul Society, we purchased 294 Antrim Road.
During the formative years, the organisation received no statutory or charitable trust funding. The committee and their families and friends were involved in providing meals and other essential support for the residents on a completely voluntary basis. This hands-on, extraordinary endeavour has always been a hallmark of the organisation since its inception and, is the same philosophy, which is evident to any visitor to Rosemount House today. The committee members have a wealth of experience in the field of caring in the voluntary sector, ranging from more than 40 years to 10 years, working with those who have been marginalised.
A major source of support for Rosemount House was found in the N.I. Housing Authority through its Supporting People Programme (Transitional Housing Benefit) they later developed into 'Supporting People'. Their support funded a number of staff posts and enabled Rosemount House to develop its capacity to deliver further services to its residents. In partnership with Filor Housing association we were able to renovate two listed buildings at 422/424 Antrim Road. The Housing Executive and Department of Social Development as well as the local community have given us a lot of support.
Rosemount House has twenty en-suit bedrooms, laundry room, Dining room and TV rooms.  Our main goal is to support the residents in their recovery and teach them life skills so that they can live independently in the community.